Alabama Global Connections
March 8, 2023
2023-05-12 15:47
Alabama Global Connections
Alabama's universities and colleges contribute significantly to the economic development of the State of Alabama. In 2015/16 International students alone brought over US$220.6 million to the Alabama economy, nationally this aspect of higher education's global engagement efforts contributed over US$32 billion to the US economy. The State of Alabama foreign direct investments in 2015 topped US$3.5 billion by foreign companies from Australia, Austria, Belgium, Brazil, Canada, China, Colombia, Denmark, Finland, France, Greece, India, Ireland, Israel, Italy, Japan, Kuwait, Luxembourg, Mexico, Netherlands, Norway, Saudi Arabia, Singapore, Spain, South Korea, Sweden, Switzerland, Taiwan, Thailand and the United Kingdom to name a few.
Alabama's business sectors include Aerospace/Defense, Automotive, Agricultural Products/Food Production, Health, Steel/Metal, Forestry Products, Chemicals, Manufacturing and a wide range of service sectors. Research and Development is key to all of these sectors and is supported through the efforts of the many research parks and centers of innovation located on or adjacent to the many higher education institutions in the state.
Global Alabama – Map of Foreign Direct Investment businesses in Alabama (2018) (2014 version) and listing of companies.
For a listing of all employers across the U.S. and in Alabama who hire foreign nationals, the data is provided annually by the United States Department of Labor Office of Foreign Labor Certification (OFLC) generates program data that is essential both for internal assessment of program effectiveness and for providing the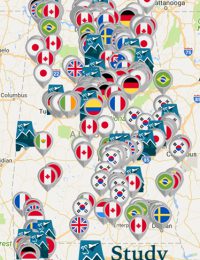 Department's external stakeholders with useful information about the immigration programs administered by OFLC. This site provides downloadable Excel files for each year on H-1b employers, etc. 
Below are some of the key economic development partnerships and resources located in Alabama. For additions, corrections please contact [email protected].