Economic Reach
March 6, 2023
2023-04-27 19:05
Economic Reach
Alabama Dept. of Labor Market information –
Workforce Development data sets, Employer locator tool, Statewide Regional Development information, Overview of Industry Clusters, Career Cluster posters and much more. Data on education requirements, work experience, wages and typical training needed, as defined by the U.S. Bureau of Labor Statistics. Included in these lists are high skilled, high demand and high wage occupations.
Number one reason to study and work in Alabama – JOBS –
Alabama Ranks #1 in Manufacturing in the U.S. Global Trade Magazine Sept/Oct 2018 Alabama has the nation's highest percentage of "engaged" workers who are enthusiastic about their jobs.
"Immigrants have started more than half (50 of 91, or 55%) of America's startup companies valued at $1 billion or more and are key members of management or product development teams in more than 80% of these companies." (source)
International Students Contribute to our Economy and American Innovation
Higher education and the economic/business sector in Alabama have a very active and global economic reach. All universities and colleges alone have a total economic impact of more than $20 billion across the State of Alabama. Alabama exports rose to a record level in 2016, topping $20 billion for the first time on gains from overseas shipments of Alabama-made products.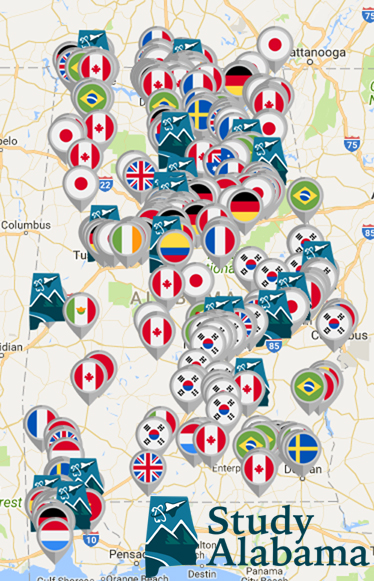 In 2016, Alabama-made goods were exported to 189 countries in every corner of the world. The top 5 destinations, led by Canada, accounted for nearly half of Alabama's exports last year. These markets are: Canada: $4.1 billion, China: $3.4 billion, Germany: $3.2 billion, Mexico: $2.6 billion, United Kingdom: $559 million. Rounding out the top 10 are Japan, South Korea, United Arab Emirates (UAE), France and Australia.
Alabama Foreign Direct Investment Company Locations. Ver Aug 1, 2018. Data set from Alabama Dept of Commerce. Email updates & corrections to studyalabama.us@ gmail.com
Countries posting large gains in imports from Alabama in 2016 include Denmark (335 percent), Kuwait (285 percent), Russia (219 percent), Taiwan (130 percent), and Sweden (126 percent).
International students in Alabama and local students who participate in the wide range of experiences offered as part of their degree programs not only enhance their degree and career potential but also strengthen Alabama's global business climate. Employers are increasingly seeking and hiring Alabama graduates who have diverse skills in the many different disciplines offered and experiences abroad.
Alabama's global reach is statewide effort as can be seen on this interactive mapping of foreign direct investment (FDI) business locations across the state and from the economic value of international students to the State as noted in the IIE/NAFSA Open Doors Reports below:
View Alabama State / District Economic Report 2021